LET US HEAL YOUR SCALP AND STOP GUESSING WHAT'S GOING ON UP THERE
Apr 13, 2023
It's Time! Using Our Kerastase Full Service Consultation & Kerascope Diagnosis Tool, We Take Laboratory Science and bring it into the salon.
It starts with a professional, detailed scalp and hair review using a Kerastase camera for a detailed diagnosis, performed by a highly trained Kerastase expert. From this detailed consultation, your service provider will choose one of the personalized rituals from the menu and what at-home care is right for you. . Comes with $30 Credit To Use Towards A Fusio Dose Or 3 Take Home Items Revealed. 
Read On For Our Top 5 Reasons Why You Need A Scalp Treatment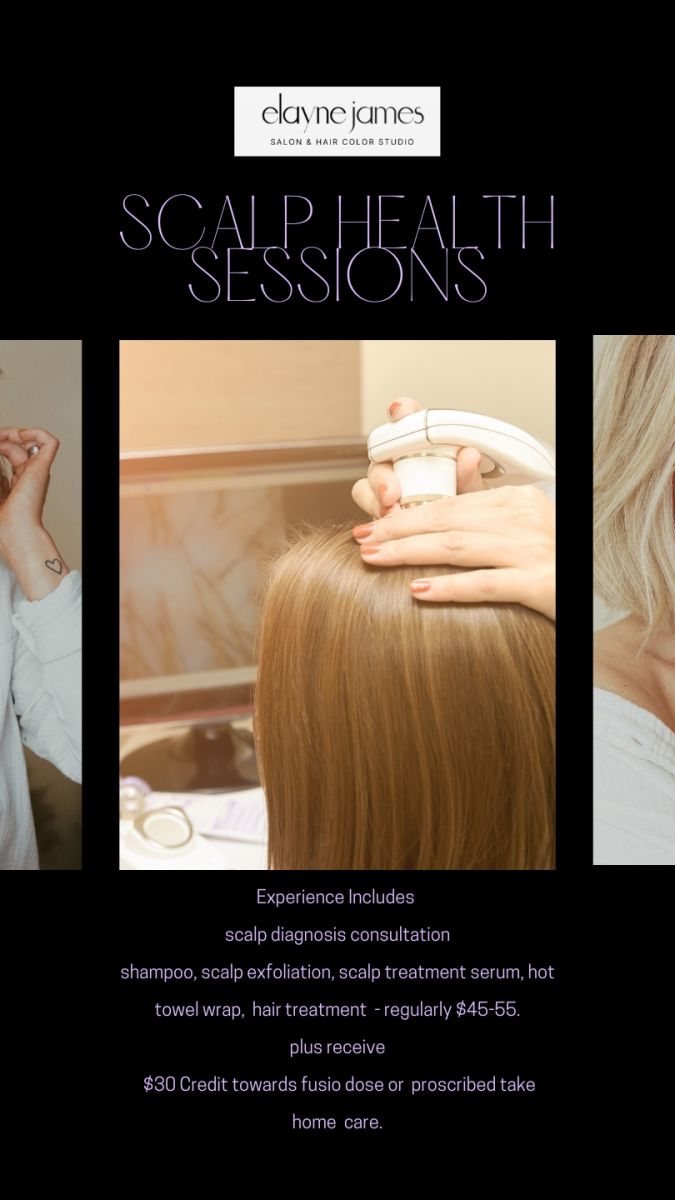 Why Get a Scalp Treatment?
Scalp treatments are one of the most underrated services. So many people live with poor scalp health, but there are plenty of ways to treat and prevent that with proper diagnosis & the highest caliber of scalp treatments that only a licensed Salon has. There are so many benefits to getting a scalp treatment – here are our top 5 reasons:
Relaxation.

I think we can all agree that there is nothing like a good scalp massage. The effects are immediate and extremely relaxing! I don't know about you, but it's definitely rated by guests as the most favorite part of their visit.

Unclogs hair follicles.

Scalp treatments are a great way to clear out and reset the sebum levels. The products used in our scalp treatments combined with the gentle exfoliation and scalp massage will help to unclog any buildup in those hair follicles, which then allows the follicle to release its natural conditioning oils. A healthy follicle means healthy hair growth!

Stimulates blood flow.

The exfoliation and massage portions of a scalp treatment help to stimulate blood flow to your scalp, making it easier for blood to reach your follicles and deliver important nutrients. The hair that grows out of those nutrient-rich follicles will be healthy and supple! Again, a healthy follicle means healthy hair 

Gets rid of dandruff.

If your scalp is producing too much oil, it irritates the scalp and causes flakiness. If it isn't producing enough, that dryness will also result in irritation and flakiness. A scalp treatment will involve some exfoliation to get rid of all that dead skin, leaving a layer of fresh, healthy skin behind. You'll also get a scalp serum applied, which lubricates and moisturizes the scalp to promote healthy hair growth.

Prevents thinning and hair loss.

Clogged follicles can result in a lack of hair growth. Some scalps require special products to remove an excessive amount of build-up, and some will even require medication. But if caught early enough, a simple scalp treatment done regularly can promote the growth of thicker, healthier hair.
Request Your Complimentary Scalp Health Consultation with our licensed and trained stylists. The consultation takes about 15 minutes prior to the treatment service. So be sure to schedule both at the time of booking.